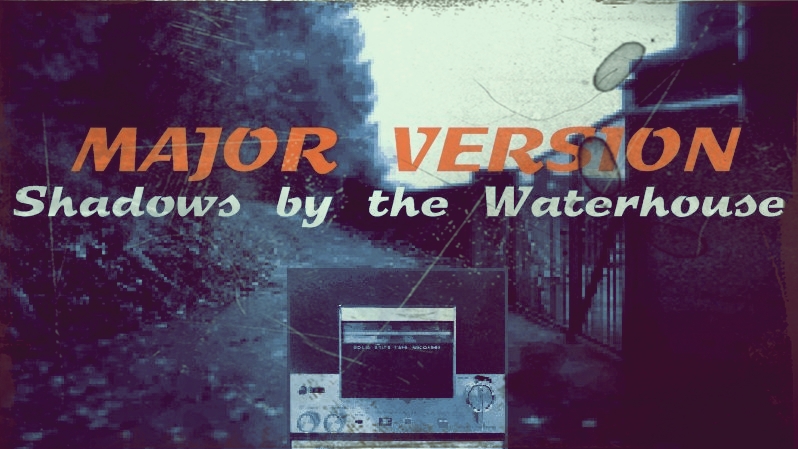 Shadows by the Waterhouse MAJOR VERSION
A downloadable game for Windows
Retro Crime Adventure
for Windows
deutsch / english
236 MB
Sophisticated storyline, nostalgic retro graphics and a unique sound arrangement
+ fantastic and challenging riddles!
+ witty mini games!
+ affordable price!
Anspruchsvolle Storyline, nostalgische Retrografik & einzigartige Soundkulisse
+ tolle, kniffelige Rätsel!
+ originelle Minigames!
+ fairer Preis!
CHAPTER 1 / THE WATERHOUSE
Triggered by the eerie discovery of a mobile phone by the river you slip into the role of a private investigator. The last pictures taken show a figure wearing the mask of a horror clown beating down the owner of the phone. If this is not a fake, what happened to the person attacked after it documented the assault? Soon you find other strange peculiarities in the vicinity of the discovery spot and you realize how quickly an innocent stroll can turn into a disturbing mission: An abandoned tape recorder, odd noises from a basement and finally – the discarded clown's mask. Is someone secretly conducting illegal experiments on human beings? To find the answers you have to get into that building at the river dam which might obviously be quite a dangerous undertaking with you being all by yourself…
KAPITEL 1 / THE WATERHOUSE
Du übernimmst - vom unheimlichen Fund eines in Flussnähe verlorenen Handys überrascht - urplötzlich die Rolle des Detektivs /der Detektivin . Auf der zuletzt gemachten Handyaufnahme ist eine Gestalt mit Horrorclownsmaske zu sehen, die gerade den /die Halter*in des Handys mit der Faust niederschlägt. So es sich nicht um eine gefakte Aufnahme handeln sollte - was ist im Anschluss mit der angegriffenen Person passiert, nachdem sie diese Attacke gegen sich selbst dokumentiert hat? Schnell bemerken wir einige weitere, seltsame Auffälligkeiten in der näheren Umgebung des Fundortes und uns wird bewußt, wie schnell ein harmloser Spaziergang in eine beunruhigende Mission münden kann. Ein herrenloses Tonbandgerät, seltsame Geräusche aus einem Keller und schließlich - die weggeworfene Clownsmaske. Werden hier etwa im Geheimen illegale Experimente an Menschen durchgeführt? Um diesbezüglich Näheres in Erfahrung zu bringen müssen wir versuchen, irgendwie ins Innere der Gebäude am Flusswehr zu gelangen, was - ganz auf uns selbst gestellt - natürlich nur ein sehr gefährliches Unterfangen darstellen kann ...
CHAPTER 2 / THE GLASS FILES
Three members of the waterhouse gang have been captured. But - as you are soon to find out - that was only the beginning. There is another top secret site which you're heading for right that evening. There is also that peculiar tavern where you are staying overnight which requires a thorough inspection. Amongst other things you are to find out about the house maid Mary that curiously disappeared. But why is the hostess trying to keep everything low profile? Is she hiding something? If yes, what is it? And is the secret society linked to the waterhouse gang involved in Mary's disappearance? More and more details seem to confirm that suspicion. Apparently there are more people held captive on that isolated premises in the forest. Moreover that's most likely the place where the secret experiments are conducted; possibly field studies for a much bigger undertaking.
Whether the – according to his widow innocent – brain surgeon Prof. Dr. Saulus Kurzweil who was involved with the experiments has been removed by the waterhouse gang because his self-doubt was threatening the conspiracy or whether he passed away from natural cause remains uncertain.
There are indications that the so called Pyramidists have been planning crimes on a much larger scale affecting all of humanity. (Seemingly they have already infiltrated all the states to gain surveillance capability and control over every movement of every single terrestrial human being.)
The so called "Glass Plan" is an insidious, cleverly devised strategy to achieve this goal where the increasing physical and mental dependency on digitization actually acts as motor. If their calculations work out there will be no escape - for no thing and no body on this planet. Coupled with the immortality ideology of the transhumanism life within this dubiously transparent palace would turn into much more of a horrific nightmare than a sacred blessing.
Some will not refrain from calling this brave new world the invisible concentration camp.
Will the future be as disastrous as predicted?

Why don't you find out?
KAPITEL 2 / THE GLASS FILES
Drei kriminelle Personen der Wasserhaus-Gruppe sind gefasst, doch das war - wie sich bald herausstellen soll - erst der Anfang . Es existiert (nämlich) noch ein weiteres, streng geheimes Gelände, zu dem wir uns noch am selben Abend auf den Weg machen. Auch die eigenartige Pension, in der wir spät nachts noch ein Gästezimmer beziehen, will genauer inspiziert werden. Dort erfahren wir u.a. vom verschwundenen Zimmermädchen Marie. Doch warum hält sich die Wirtin des Hauses auf unsere diesbezügliche Nachfrage hin so bedeckt? Will sie etwas verschweigen? Wenn ja - was? Und hat die geheime Organisation, die - wie sich sodann herausstellen wird - mit der Wasserhausgruppe zusammenarbeitet, etwas mit Maries Verschwinden zu tun? Mehr und mehr Details unterstreichen allmählich diesen Verdacht. Offenbar gibt es auf dem abgelegenen Waldgelände, welches nicht mit dem Auto zu erreichen ist noch mehr Gefangene und vermutlich finden hier auch die weiteren, geheimen Experimente statt. Womöglich die Feldversuche für ein noch weitaus größeres Unterfangen. Ob der - laut seiner Witwe offenbar unschuldig - in die Experimente verwickelte Hirnchirurg "Prof. Dr. Saulus Kurzweil" aus dem Verkehr gezogen wurde, weil dessen Selbstzweifel die Konspirativität der Wasserhausgruppe bedroht hatten oder aber doch eines natürlichen Todes starb bleibt weiterhin unklar. Einige Indizien sprechen dafür, dass die sog. "Pyramidler" längst Verbrechen weitaus größeren Ausmaßes planen, deren Folgen die gesamte Menschheit betreffen würden. (Allem Anschein nach haben sie dafür bereits den Staat unterwandert, um letztendlich jeden Einzelnen Erdenbewohner auf Schritt und Tritt überwachen, manipulieren und kontrollieren zu können.)
Wir finden den sog. "Glass Plan", einen perfide ausgeklügelten Plan zur Erreichung dieses Zieles, aus dem wir unter anderen entnehmen, dass die zunehmende psychische wie physische Abhängigkeit von der Digitalisierung als regelrechter Motor dafür fungiert. Sollte die Rechnung der "Pyramidler" aufgehen, würde es bald kein Entrinnen mehr geben, für nichts und niemanden auf diesem Planeten, Gepaart mit den Unsterblichkeits-Ideologien des Transhumanismus würde das Leben in diesem fragwürdig gläsern gewordenen Palast mehr Horror denn Segen sein.
Manche scheuen sich nicht, diese schöne neue Welt gar als "das unsichtbare Konzentrationslager" zu betiteln.
Wird es tatsächlich so fatal kommen wie prognostiziert?
Finde es heraus!

| | |
| --- | --- |
| Updated | 4 days ago |
| Status | Released |
| Platforms | Windows |
| Release date | 7 days ago |
| Author | novel games |
| Genre | Adventure |
| Tags | 1st-person, adventure-maker, Crime, Pixel Art, Point & Click, Retro, Singleplayer, Thriller, windows |
| Average session | A few hours |
| Languages | German, English |
| Inputs | Mouse |
| Links | Homepage, Blog, Twitter, Vimeo |
Purchase
In order to download this game you must purchase it at or above the minimum price of $7.99 USD. You will get access to the following files:
Waterhouse Major Version.exe
236 MB