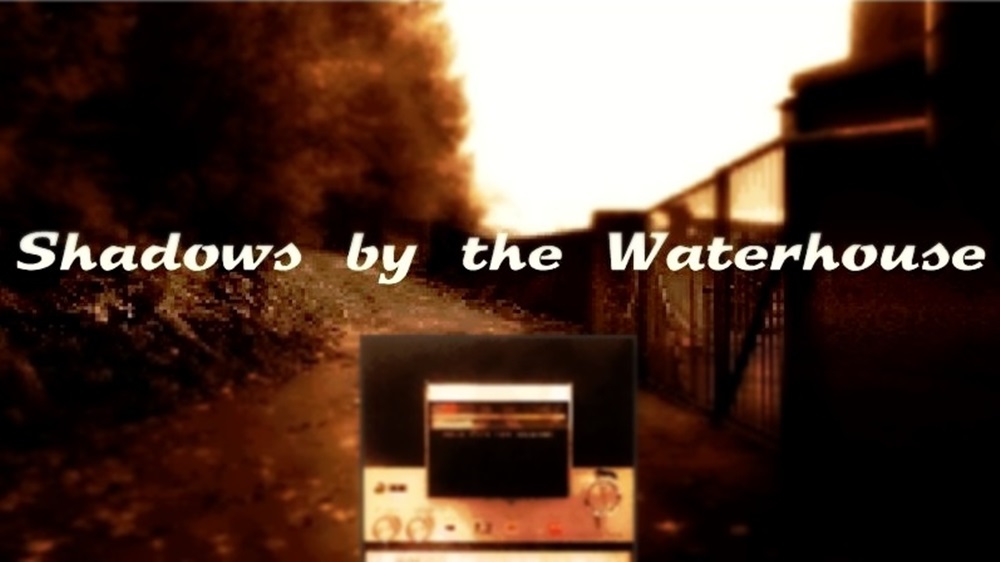 Shadows by the Waterhouse Part 1
A downloadable game for Windows
INTERACTIVE Short Crime Thriller in GERMAN/ ENGLISH (combined version)

Watch out retro fans! Here's something for old school lovers: an 80s style Point & Click Thriller Adventure Game (1st person) with all possibilities that come with the 80s era and its subsequent years. I've added a luscious sound to taste, spiced with a very individual graphic style in sepia / mint. Combined language version (english / german). (Part 2 will be published in 2018!)
THE STORY:
Well… Who doesn't secretly dream of embarking on an exciting, criminal adventure? Going on a leisure walk, unsuspecting… and getting entangled in some serious criminal case from one minute to the other? As a player, you yourself take on the role of the investigator, suddenly and unannounced, and shook by the eerie discovery of a cell phone lost by the river. The phone shows a pic of a creepy person wearing a clown mask. Is someone messing with you here? Or is someone clearly threatening anyone who gets to find this phone?

So, it's on you now… Go ahead and inspect the area around the old forest cemetery. Follow the mysterious tracks around an abandoned weir at dusk and find out what's going on there…
The crime thriller by author and game developer R.V. relies on a subtle level of suspense in a nicely set retro atmosphere. If you are into classical Point&Click adventure games that go beyond trivial action romance you are going to love SHADOWS BY THE WATERHOUSE!

For more informations please visit my itch.io DEVLOG https://itch.io/t/146548/shadows-by-the-waterhouse THX!


DIE STORY:

Beim Spaziergang nahe eines Flusswehres sind seltsame Geräusche zu hören und auf dem Wasser treibt irgend etwas. Mit der unheimlichen Wehranlage scheint irgend etwas nicht zu stimmen ..
"Ich gehe ja gerne und oft spazieren und sehe und erlebe dabei zuweilen allerhand interessante Sachen. Was jedoch an jenem Tage - von dem im Folgenden die Rede sein soll - geschah, war etwas gänzlich Außergewöhnliches"
Du als SpielerIn übernimmst die Rolle des Kommissars – plötzlich und unangekündigt, völlig überrascht über den unheimlichen Fund eines in Flussnähe verlorenen Handys. Darauf zu sehen... das Foto einer gruseligen Person mit Clownsmaske. Handelt es sich hier nur um einen Joke oder bedroht da nicht eindeutig jemand den Betrachter? Und wo ist dieser Betrachter bzw. Besitzer des Handys jetzt?
"Ein Tag, der mit ein paar zunächst harmlos erscheinenden Entdeckungen begann, und sich dann aber mehr und mehr zu einem unheimlichen Ganzen verdichtete. Und dann dieses Gespräch auf dem Friedhof! Ehe ich mich versah, hatte mich das Verlangen, den Spuren dieses dunklen Geheimnisses zu folgen bereits so tief in den Bann gezogen, dass es für mich - all den steigenden Gefahren zum Trotz - kein Zurück mehr gab. Denn mit zunehmender kriminalistischer Recherche wurde mir auch klar, dass hier, in diesem unscheinbaren, ehemaligen Kraftwerkshaus etwas enorm Konspiratives im Gange sein musste, was nicht nur meine eigene, sondern gar die Freiheit der gesamten Menschheit auf`s Spiel zu setzen riskierte."
Werden hier etwa im Geheimen illegale Experimente (an unschuldigen Menschen) durchgeführt? Und wenn ja - handelt es sich dabei "lediglich" um die Erprobung eines neuen Alzheimermedikamentes oder gar ...?
("Oft wurden ja schon, teils sehr zweifelhafte, technische & medizinische Fortschritte in vergangenen Zeiten diktatorischer Unterdrückung auf dem Rücken Unschuldiger erzielt. Leider aber auch hier und heute in einem demokratischen System, wie ich an jenem Tage feststellen musste. Ein sogenannter `Fortschritt` der auch eine immer komplexer werdende digitale Versklavung ermöglicht und die Menschheit dabei allmählich zu emotional-geistigen Primaten, ja wenn nicht gar Maschinen reduziert ..")
Der / die SpielerIn sammelt, benutzt und kombiniert in klassischer Point & Click -Manier Gegenstände, führt Gespräche mit der Frau eines verstorbenen Gehirnchirurges und muß u.a. ein altes Tonbandgerät zum Laufen bringen, bis er schließlich Zugang zur "Höhle des Löwen" erlangt.
"Dort habe ich dann zu meinem großen Schrecken erfahren müssen, um was es hier eigentlich geht ..."
Für weitere Informationen besuche einfach meinen itch.io DEVLOG: https://itch.io/t/146548/shadows-by-the-waterhouse DANKE!

Purchase
In order to download this game you must purchase it at or above the minimum price of $3 USD. You will get access to the following files:
Shadows by the Waterhouse 1 (1024 x 768)
84 MB
Shadows by the Waterhouse 1 (640 x 480)
84 MB